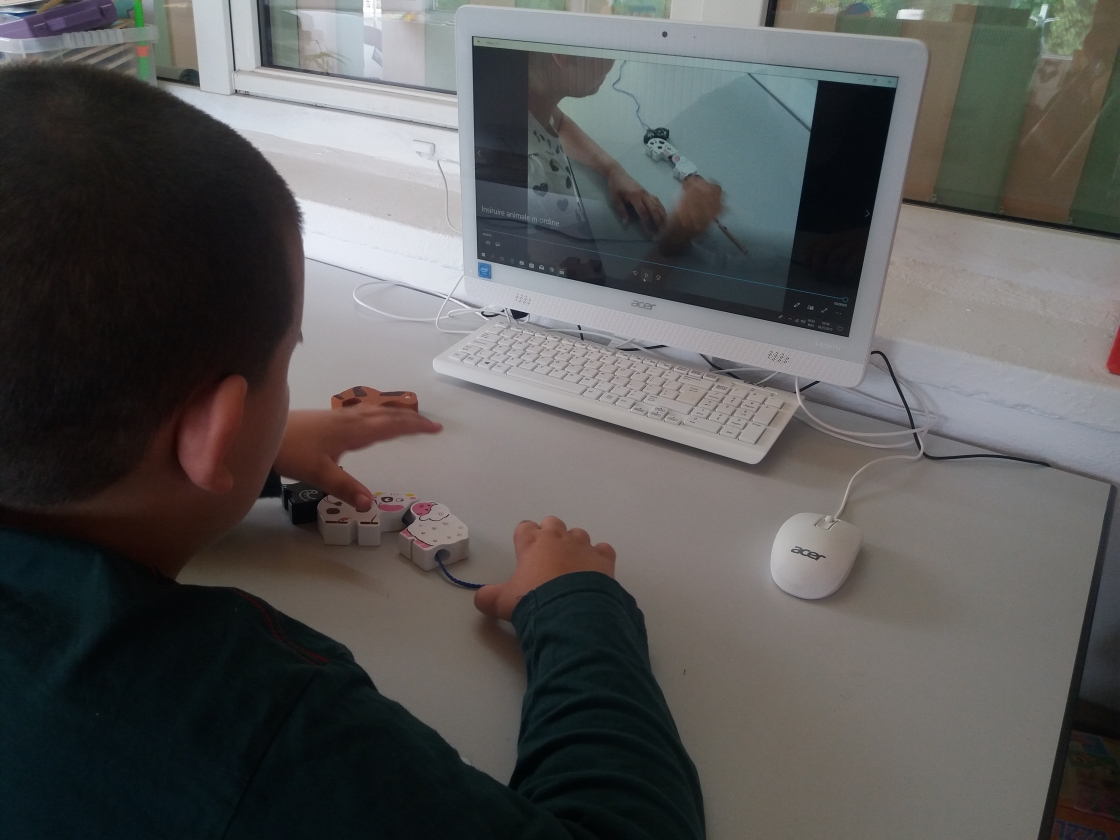 Education Center for Inclusive Education Alexandru Rosca Lugoj
Video scenario
Video modelling is a visual teaching method that occurs by watching a video of someone modelling a targeted behaviour or skill and then imitating the behaviour/ skill watched.
It is one of the methods used to support teaching various skills to children and students with autism.
The video modelling is a form of visualization and it helps children understand and successfully accomplish the task.
Additional Info
Goal:

Included in school/society, Pupil well-being, Cognitive accessibility, Independent/life skills, Academic skills, Social communication

Students age range:

3, 4, 5, 6, 7, 8, 9, 10, 11, 12, 13, 14, 15, 16, 17, 18

Curriculum area:

Not related

Year period:

Any moment

Step by step description, including actions to be developed for preparation and implementation:

Preparation of video scenario: • Hands –simple, similar to children̕ s hands • Interesting toy, but not too much • Sounds • Story • Interesting ending- motivation to finish the game Rules in making a scenario: • Respecting actual level of play skills- video has to meet child̕ s needs and respect his abilities • Video is based on the individual interests and preferences of a child- using favourite activities, toys, topics etc. • Pace- slow, child needs appropriate time in order to follow the video • Once a child is familiar with a video scenario- we can speed up the video • Repetition of the steps of one task – we repeat each step in a longer period of time in order to differentiate it from the other steps How to show a video to a child: Step 1: introducing a video scenario • Child only watches video scenario • Our task: make sure a child pays attention to it Step 2: watching video scenario and modelling in parallel • Child watches a video and an adult, who performs a task according to the video scenario Step 3: doing a task simultaneously with watching a video • Child is actively involved into performing a task • Our task: adult uses physical prompts Step 4: playing video independently • Gradually decreasing prompts and assistance to support independent work • Adult assists only to help a child to finish the task successfully Step 5:decreasing support of the video scenario • Gradually decreasing use of the video • The aim is to learn the skill to perform the task independently without any support; to generalize and use the skill in a practical situations In practice, different phases overlap and cannot be viewed separately. Other rules: • Use the same toys as in the video • Make verbal commenting to support and motivate the child • Putt other things away • We insist on the completion of activities according the video ( if child is too nervous, the activity can be simplified) Repetition and frequency: Repetition at step1: introduction • We show a video to a child once and we watch how he/ she responds to it- if he/ she likes it, we can show video a few more times; if he/ she does not play attention, we try to motivate him/ her; if they are still not interested or refuse to watch it, we do not force a child and stop. How often we show the video scenario? • At least once a day ( depending on the character of the video scenario) • It has to be regular in a long term horizon

Resources to be used, including human resources, materials and spaces:

Technical equipment: • Video camera, camera, mobile phone, iPad, tablets, smartphone • Appropriate room • Material for intended video Human resources: • Students • Teachers • Other children Materials: • Interesting toy/ or all the materials to accomplish a new skill • Sounds • Technical equipment Space: • At the table • On the floor • In the natural environment/ kitchen, workshop, garden etc.

Difficulties found while implementing it:

Possible risks: • Individual and creative approach is necessary- we have to take into account individual needs of children- different level of functioning, understanding, their reactions, perception, motivation, … • This is a long-term continuous training –it is necessary to continuously invent and make new videos • Problems with generalization can occur - children can have difficulties with transition of the task to real life or repeat them when environment is changed. Possible setbacks: • Attention deficit • Diverting attention to something else • Uninteresting video • Child watches the video too many times- losing interest • Very simple game • Very challenging game • Computer problems

The official webpage for the good practice: